WELCOME TO THEGARDEN YOGA STUDIO IN ICKFORD VILLAGE
It's easier than ever to book your space in a class. Simply select the session you wish to attend, fill in your details and make payment through the secure payment portal. All the info you need will appear on your booking confirmation email!
Alternatively, you can contact Lisa here to have your booking arranged for you and to ask any questions.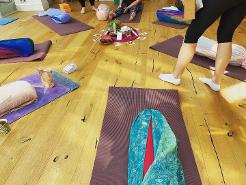 In-person group and private one to one sessions are held in a fully equipped private garden studio with green views and plenty of light, in Ickford Village.
Spaces are limited, advance booking essential. Lots of parking available.
If finances are a barrier to your yoga practice, please email me to discuss and I will endeavour to help you if I can.
© Copyright Lisa Wehbe Holistic Yoga & Wellbeing