September 2023 Women's retreat
Yoga Relaxation Bliss
Women's retreat
21st to 24th September 2023 in the Entre-Deux-Mers, South West France
Thursday to Sunday
Time just for you
Escape away for a weekend to the rolling hills of the Entre Deux Mers and discover yourself on retreat at a traditional French farmhouse. In this peaceful setting, nestled between the many vineyards of the premier cote de Bordeaux, we'll spend the weekend delving into our Yoga practice and unwinding from the stresses and strains of everyday life. Take some time to switch off, relax and be guided deeper into your yoga practice under the watchful eye of your experienced teacher. In your free time take a dip in the pool, enjoy the countryside and nourish yourself with delicious vegetarian fare, all cooked and prepared in house by our lovely cook Jenny.
Yoga
Dive deeper into your Yoga practice and experience that ongoing afterglow of bliss in this immersive 3-day weekend retreat.
Our Yoga schedule will include:
Thursday- Welcome circle and a relaxing Yoga Nidra session to get you into de-stress mode.
Friday & Saturday- Sunrise Hatha Yoga to set you up for the day and relaxation yoga in the late afternoons. In the evening on Friday there will be a fire side drumming session and star gazing under cosy blankets (weather permitting). On Saturday evening we will delve into a very special Candlelight Yoga Nidra session.
Sunday- Another morning class, where we will form our final farewell circle.
We have the option to practice yoga outside over looking the vineyards or to use the spacious indoor studio. Retreat spaces are limited to just 11 guests with different options for twin, triple and single occupancy rooms (chosen at booking) to ensure a high level of attention and to allow a connected, intimate atmosphere amongst our group.
Leave each session feeling unwound, uplifted and relaxed.
Food
Work up an appetite on your mat in the morning before sitting down to a delicious, locally sourced feast. For breakfast think freshly baked French bread, muesli, fruit, yoghurt, cheeses, preserves and juices. Lunch will be flavoursome, freshly made and light. In the evening expect a mouthwatering home cooked dinner and desert. Freshly baked, home-made cakes and snacks made daily.
All the food will be locally sourced, vegetarian fare with a focus on foods that are full of colour, flavour and health.
Please specify any dietary needs at the time of your booking. We can cater to gluten free, Vegan and low FODMAP diets amongst others. Unfortunately we cannot cook to individual preferences that are not related to an allergy or medical condition but breads, cheeses and salads are available along side all our home cooked meals if something should not tickle your fancy.
Wine is not included in the retreat price but bottles may be purchased from the vineyard across the road and at the local bar in the village.
Accommodation
The farmhouse is a restored 17th century "Metairie", typical of the region and is set in 12 acres of land, flanked on all sides by vineyards and chateaux. Local rumour states that the Metairie was owned in the days of yore by one of Louis XIV's many mistresses who resided in the neighbouring chateau!
The grounds are frequently visited by fallow deer, red squirrels, hare and even wild boar. The house has an indoor swimming pool, a tennis court and indoor and outdoor dining spaces. There is a fully equipped indoor yoga studio and an extensive terrace with pretty views. The rooms are rustic, high ceilinged and very spacious with plenty of nooks to sneak off into for quiet time. The location is on the outskirts of Lignan de Bordeaux in the Entre deux Mers, just 30 mins from Bordeaux Merignac Airport and 25 mins to the city centre by car.
On this retreat 11 guests will be offered beds over 5 bedrooms in the farm house which are selected at booking.
Down Time
Relaxation is high on the agenda for this mini break but you are invited to be as active or as passive as you like. Bring a book and rest up on a sun lounger or take yourself on a visit to the vibrant city of Bordeaux, just 25 mins away by car.
A half hour drive east, will take you to the stunning historic town of Saint Emilion. The infamous village of Castillon-la-Bataille or the town Blaye with its impressive 15th century citadel are also not too far to visit.
If wine is of interest then Chateau Seguin is walking distance and can provide you with a tour and well stocked cave á vin and of course the famous Châteaux of the Medoc region are all about 40 minutes drive.
A swimming pool and tennis court are available to use at your leisure or wander into the village to enjoy a drink at the local bar. The area has great cycle paths, accessible from the house; perfect for a jog or bike ride. Equally, spend your down time snoozing in a hammock, it's totally up to you!
Reviews from the 2022 retreat
"I just wanted to say a massive thank you to you, Lisa and Jenny for the weekend. I really got a lot out of the retreat including rest, increased love of yoga and wanting to explore more plant based food options. Genuinely an inspirational weekend I can't think of anything that could be improved, except to add one more night!" -Fran
"It was amazing! The Yoga, the food, the jigsaw."- Emma
How much does it cost?
Options are:
Your own private room (double bed to yourself) with shared bathroom = £480 per person (only one of these available)
One space in a two person shared room (double bed to yourself) with ensuite = £417 per person
One space in a two person shared room (single bed) with shared bathroom = £380 per person
Space in a three person shared room (double bed to yourself) with ensuite = £366 per person
Space in a three person shared room (single bed) with ensuite = £351 per person
What's included in the price?
Yoga: 8 Yoga sessions (some are meditation based such as the Nidra sessions and drumming).
Food & drink: Evening meal on Thursday. Breakfast, lunch and dinner on Friday & Saturday. Breakfast on Sunday morning. All coffee, tea, soft drinks and daily snacks also included.
Accommodation: Three nights accommodation (Thursday, Friday, Saturday) in the room you select at booking.
Facilities: use of grounds, tennis court, swimming pool and internet (in the communal, downstairs part of the house).
What's not included?
Your travel costs. You must plan and make your own way to and from the airport or trainstation to the house.
Travel insurance (this is required)
Local wine
Additional excursions
How do I get there?
Fly into Bordeaux Merignac airport and hire a car or get a taxi to the house. There are flights arriving on a Friday from Gatwick, Luton and Stanstead airports.
Take the train via Paris to Bordeaux Gare and get a taxi to the house.
For Taxis we recommend installing the Uber App on your personal device, do make sure the app is up to date before travel.
Previous retreat guests have successfully travelled to the venue using the methods mentioned aboveand one even drove from the uk!
What is the cancellation policy?
No refunds.
Exceptions cannot be made for any reason including weather, injury/illness (including Covid 19), travel disruptions or personal emergencies.
We cannot issue partial refunds if you arrive late or early, or in the event you decide not to eat some of the meals or skip classes during the retreat.
If France or the country you are travelling from has vaccination requirements for travellers, we cannot refund you in the event you are unvaccinated and denied travel to or entry into France.
It is vital that you have travel insurance for your trip that would cover you in case you cannot attend and for in the event of accident or illness whilst on the retreat. Your travel insurance should cover any medical expenses you could potentially incur during your trip.
When is it?
Thursday 21st to Sunday 24thSeptember 2023
You may arrive anytime after 3pm on Thursday. On Sunday, check out by 12 noon.
How do I book?
Click the "Book Now" button above to be taken through to the booking page
Can I come on my own?
Independent travellers are more than welcome! Whether you arrive as a solo traveller or with a friend, you will be welcomed into the fold.
Can I take time alone?
You are encouraged to eat with the whole group at meal times but are welcome to slip away to snooze or take your own time to relax whenever you please. There are lots of places to get alone time at the Metairie, from hammocks to comfy sofas!
Any other questions, please contact Lisa via WhatsApp 07779585169 or email tidings@lisawehbe.com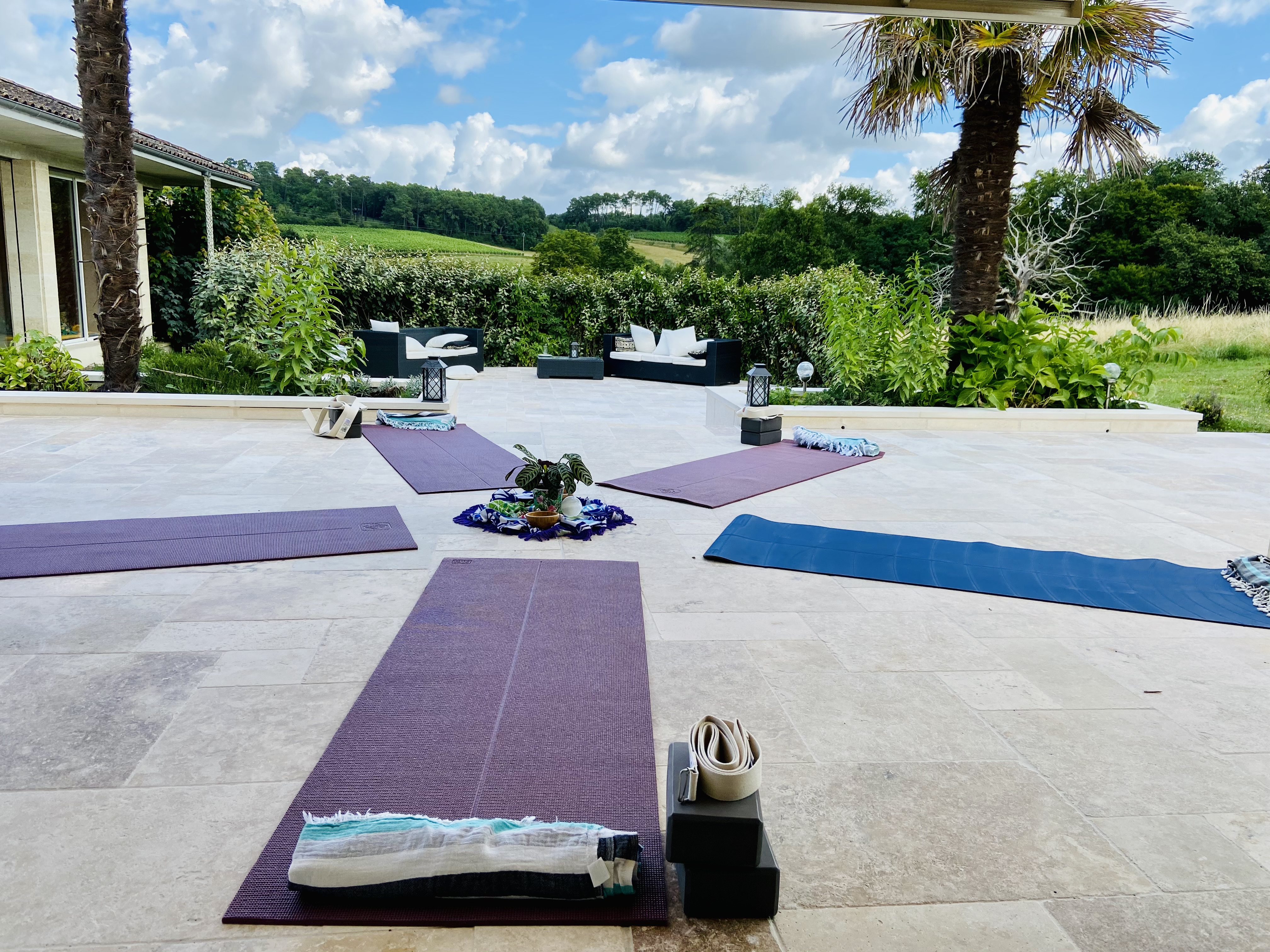 © Copyright Lisa Wehbe Holistic Yoga & Wellbeing