holistic Yoga & Wellbeing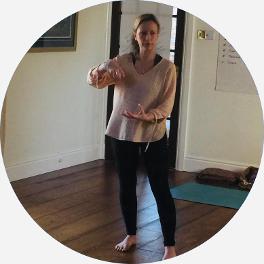 Lisa
You are welcome here! Thank you for finding my website and for taking the time to read.
My background: I trained with Fire Angel Yoga for my foundation YAP 200hrs Yoga Teaching certificate in 2018. I then went on to study as a pre and post natal certified Yoga teacher with an additional advanced training in postnatal Yoga. I have a further teaching qualification in Well Woman Yoga Therapy (sometimes known as Womb Yoga Therapy) and am a fully qualified Yoga Nidra Facilitator. This summer I completed a course in Sound Therapy and I have recently finished studying for my Reiki level 2 qualification. As you can see, I love to continue my own personal development and it is with this this passion that I wish to meet you wherever you are at on your own journey with Yoga, wellbeing and self growth.
I came to Yoga 20 years ago because it was complimentary to training and working professionally as a dancer (I am also a qualified IDTA ballet and modern dance teacher). Over the years I experienced a plethora of yoga styles but it was the nurturing and healing nature of pregnancy yoga which encouraged me to seek my own path as a teacher and facilitator.
I have a sense of contentment and joy, or as we say in Sanskrit "Santosha", when I reflect on discovering Yoga and other esoteric practices and am especially in gratitude to the teachers who have shared with me their knowledge, taught and influenced me, I will eternally hold them in reverence. Read about them here.
My Style and intention: A nurturing approach where your comfort and yoga needs are paramount. Facilitating holistic Yoga which explores the breath, body and mind in integrated, mindful movement for the promotion of self-healing is my motivation. The need for flexibility to be supported by strength and stability are focal points of my Asana (physical Yoga) teaching practice in addition to helping people achieve the important "rest and digest" state necessary for healing to occur.
I believe that as modern human beings we have been conditioned to seek external gratification in various forms in an attempt to find answers to (or distraction from) our challenges and that it is a futile and self perpetuating habit. We have been doing this for so long now that we have forgotten the very nature of our true selves. Even though I am aware of this myself, I still battle with it daily! However, I am certain that now is the time to bring our awareness home to our bodies, this is the time to reconnect and heal ourselves through self-love, rest and activity.
Some might argue that all yoga is holistic and so to name it as such is a tautology. However I have chosen to name my offerings as holistic because I have been aware through my own experiences that not all yoga is coming from or is taught in a healing and nurturing way which seeks to avoid harm.
I also work with the Tarot, an art I began learning when I was a teenager (although this is not relevant in most sessions and is only occasionally used when requested in 1 to 1s). I use other earth and sky based practices such as moon cycle charting and what I call "mother earth grounding" practice.
What I am learning now: This year I will also begin learning the Northern Furthoc Runes. The runes, tarot and some of the other esoteric arts I use relate to and are inspired by my matriarchal ancestral line. I continue to evolve these as ongoing self development practices. I have spent time studying Tantra, Sacred Cosmology with Yoli Maya Yeh, which I have absolutely loved.
My Mission statement: I am committed to holding space which facilitates self-healing for all through therapeutic sessions whilst acknowledging and respecting the origins of the practices being shared. It is my mission to present an authentic version of myself, beliefs and values through that which I share with you. I believe that all beings are equal but that due to the historic oppression many faced and continue to endure to this day people of black, Asian and minority ethnic heritage have a harder path to walk especially in seeking out safe spaces, free of racism and/or prejudice in which to practice yoga and healing. Not only is this important to acknowledge as a healing facilitator, but is particularly relevant to yoga practices because their origins lie with the indigenous peoples of South and East Asia. In Europe and across America, Australia etc we are able to enjoy the benefits of Yoga because the teachings have been shared with us. Theses teachings do not belong to our ancestors and so we must hold them with even more care, like a precious borrowed item which we wish to avoid damaging. It is just one of the reasons we facilitators must make ourselves aware of how injustices can be perpetuated if we only cherry pick the parts of yoga which appeal to us whilst erasing the true history. Or how in failing to recognise race trauma, we then become complicit in the continued oppression of marginalised people. If we are benefitting from something, we must at the very least, honour and credit the origins and we must remain open to listening to and centring the needs of any people who have suffered because of historic and modern-day oppression. Hopefully we strive to go beyond that too. Hopefully we are holding all in safe, accountable spaces. Read more on my thoughts on this here.
---------------------
In addition to my 500hrs + teacher training qualifications in the field of Yoga, I am insured through Yoga Alliance Professionals and am a BRC first aid certificate holder and have a full DBS check.
Please contact me if you wish to discuss anything prior to your first class. I look forward to welcoming you.
© Copyright Lisa Wehbe Holistic Yoga & Wellbeing